Like, literally.
On my home server, I've set up a Murmur server, which is an open-source (free!) VoIP program that is supposed to have great performance and low latency.
I mean, we have some text chat. What about voice chat? Right? Could be cool.
1. Download
Download
Mumble 1.2.3 for your specific OS here
2. Audio Settings
Install it and then it should let you configure your sound system. (My version looks a little difference since I'm using a different skin.
You can see other skins here
.
When you first start up, it should ask you to set up your sound system. If you opt out of that, or if you want to use the audio wizard again, go to
Configure -> Audio wizard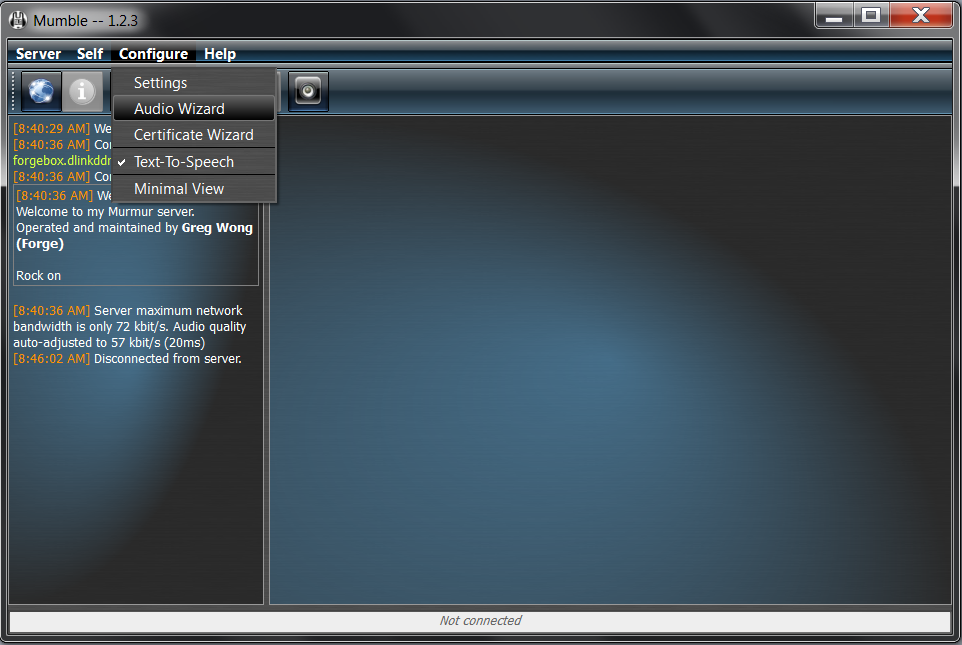 The setup should be self-explanatory.
You'll eventually come to Voice Detection. I highly recommend Push-To-Talk, which means you press a button or a combination of buttons to activate your microphone. That means we won't hear, for example, you sneezing, or your roommates/parents/siblings/angry neighbors yelling at you. It stays off until you push those buttons.
The other options are Raw Amplitude From Input and Signal-Noise Ratio, which are kind of effective. Just know your mic will always be on if you choose those options. In the below picture, I have my mic set to push-to-talk, with one of my mouse buttons as the trigger.
Lastly is audio quality. Medium is usually a solid choice for pretty much any user.
3. Joining Server
Now, joining the server. You can use this URL with your browser
mumble://forgebox.dlinkddns.com:64738/?version=1.2.3
Or you can do it manually.
Go to
Server -> Connect
As you can see, I already have this chatroom in my favorites, but a first-time user will not. Click
Add new
Fill it so it looks like this.

Address: forgebox.dlinkddns.com
Port: 64738
When it prompts for password, password is
gregthegreat
(and no laughing at that password)
4. Access Tokens/Passwords
Now, the room should look something like this.
The rooms
Counter-Strike
,
Killing Floor
,
Let 4 Dead
,
Room 1
,
Room 2
, and
Room 3
, as well as the main root chatroom are wide open to you right from the get-go.
Family and Friends
is for, well, my IRL family and friends, so no access for you. The
Anipas - Apalm
channel is protected.
Go to
Server -> Access Tokens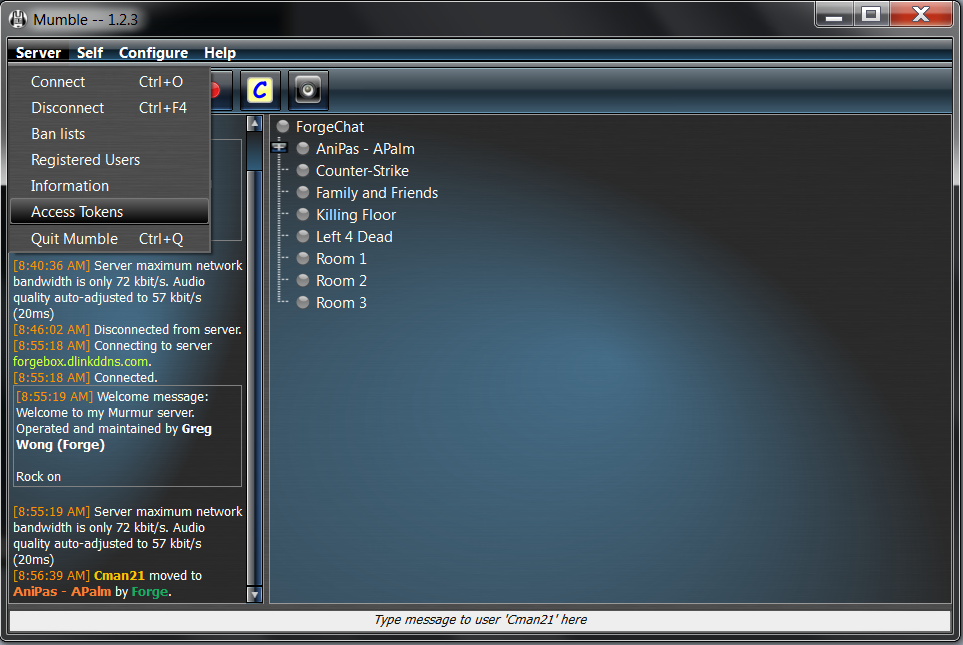 Add a new token (which is like a password)
anipas de forge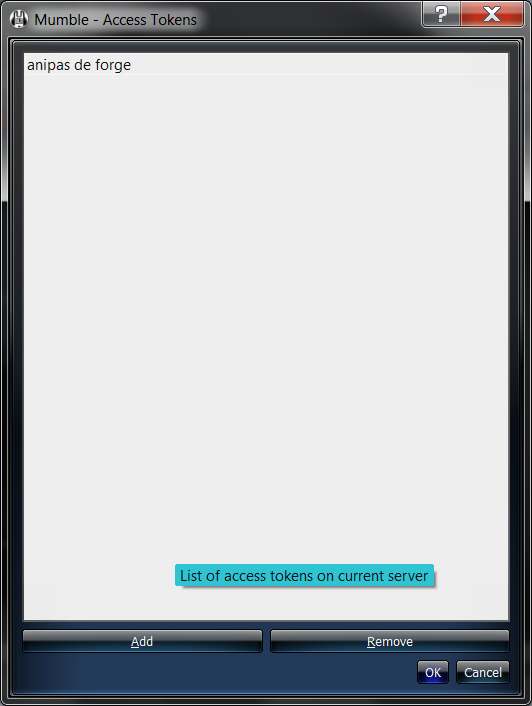 I'd ask that the password not be distributed willy-nilly. If there's someone you trust with the channel, go right ahead and let them come in. Just don't put this up on, like, C-W and tell them to spam me. Gah.
You can now access the
AniPas - APalm
channel. (The subchannels have further protection, which I'll go into below
4. Certificates and Registration (OPTIONAL)
This is mostly for any of the admins or encoders who want access to the subchannels. It's not mandatory, and most regular users will not need this step at all.
Go to
Configure -> Certificate Wizard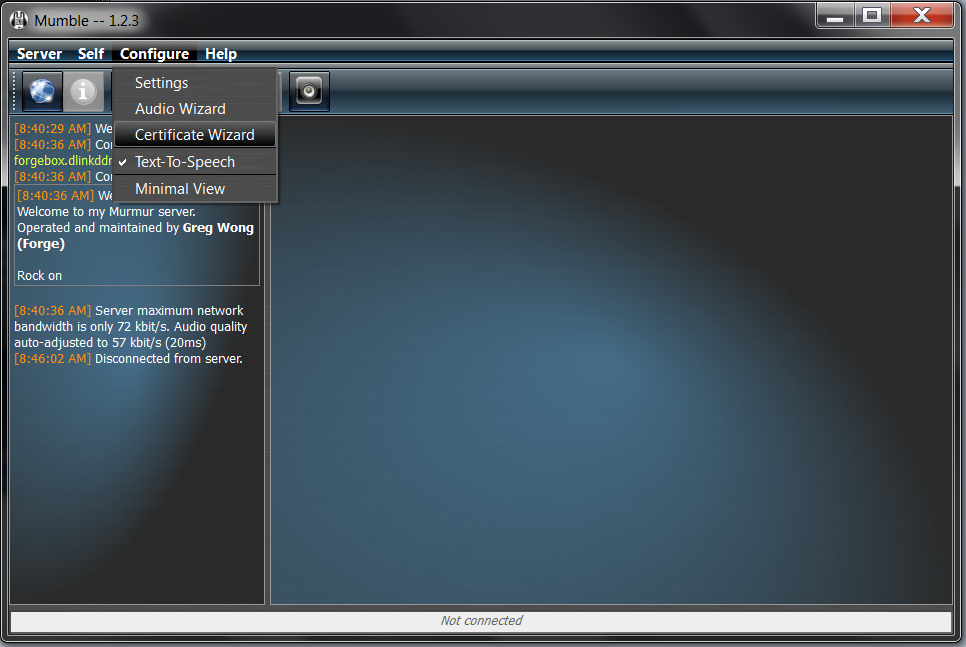 Make yourself a Certificate. You can do the quick and easy auto certificate, which works just fine.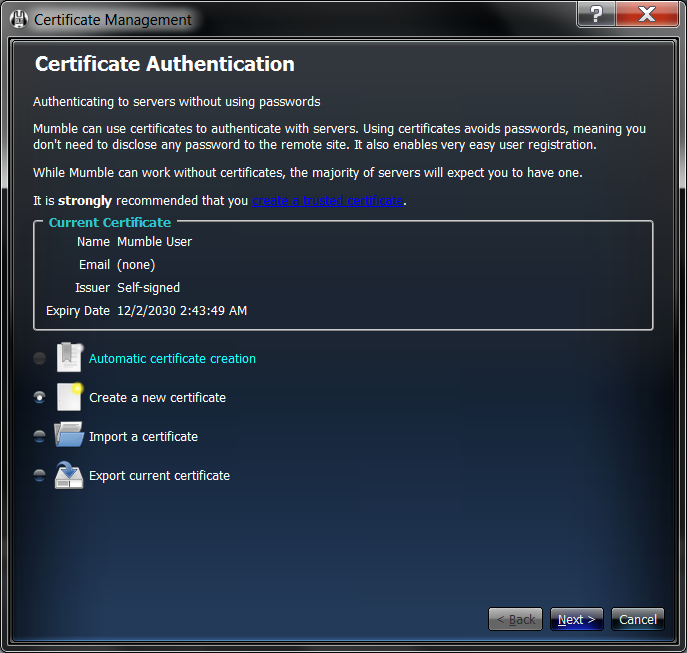 If you notice in this picture, LightningBlade and I are registered, which means we are allowed into the
AP Encoders
subchannel. Cman is not, which is why he's in the main channel.
If Cman wants me to grant him higher privileges, he has to register. If you want to register, right-click on your name and hit register. Note that if you register you won't be able to use a different name. Also, you will not be able use that exact same name on a different machine unless you export your certificate. I'll explain below.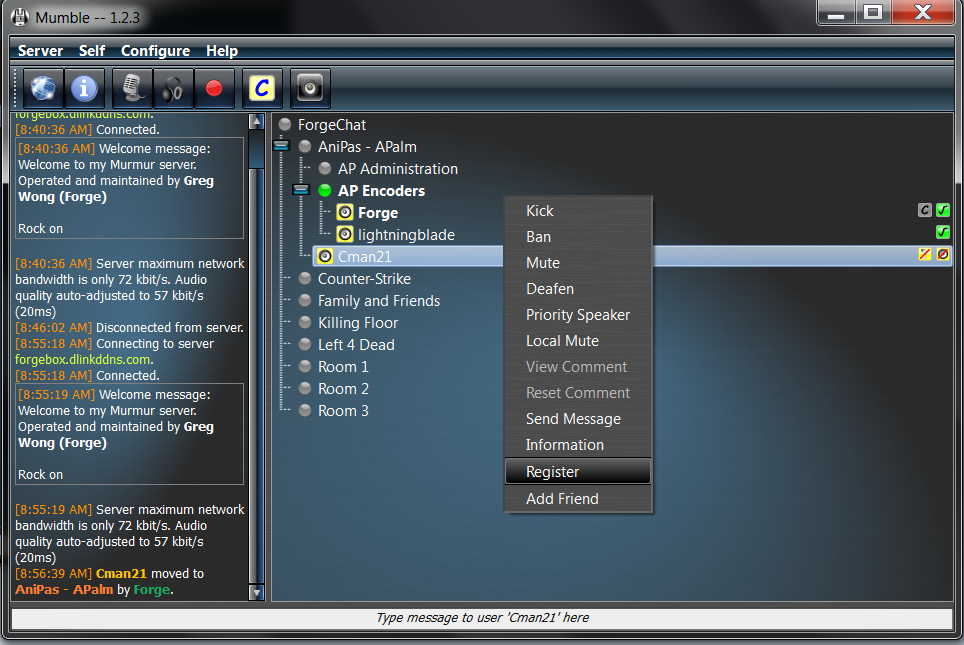 As I said above, if you register your certificate, you will not be able to use that particular username if you connect from a different machine. However, if you go to
Configure -> Certificate Wizard
You'll see options to
Export Certificate
and
Import Certificate
. Should be self-explanatory. Export your certificate to a flash drive (or whatever), or email it to yourself. Then, use the import function to copy it over to the new machine.
Anyhow, I guess that's it. If anyone has any problems, just leave a message and I'll help you through it.
Fun tidbits:
--Features an in-game overlay, so you can see who's talking to you
--Supposedly has directional audio with games; if Cman is behind me and starts screaming that some dude's coming to knife me, I'll hear the voice coming from behind me
--Text-to-speech (which is always funny)
--You can record conversations
--Allows sound attenuation, which means other sounds will lower when someone is talking
--Allows skins, avatars, and comments.